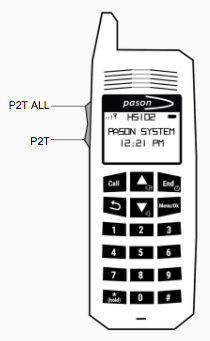 Purpose
This design and usability project was developed in partnership with Pason Systems, a Calgary-based drilling and data solutions company. The purpose of this case was to design a satellite phone that was navigable and usable, but had one less row of buttons than the previous version of the phone. The challenge of eliminating one row of buttons was issued to save Pason money on the production of the phone itself. To test the effectiveness of the design, myself and three other team members created a paper prototype for test participants and formulated a usability test of several scenarios that the participants had to complete.

Research
During my team's research, we found that although we had to eliminate one row of buttons, we could not sacrifice any of the functions that users had come to expect from past versions of the phone. Included functions needed to include a power button, a start call/end call button, a menu that contained a contact list, navigation buttons, volume control, a hold button, all numerical buttons and a "Push to Talk/Push to Talk All" button. This Push to Talk feature was especially important to include in the design since it is used for quick, walkie-talkie type calls from one user to another or to all users with a phone.

The phone was also equipped with a digital LCD screen that helped to aid the user in navigation, and could not be removed for this reason.
Ideation
In order to not lose functionality, my team and I decided to combine the functions of certain buttons together to create two-in-one functions. The first function would be achieved by simply pressing the corresponding, while the second function of the button would be achieved by holding down the same button for two seconds – similar in nature to how computer keyboards can produce different symbols using the shift key. These double-function buttons would be used for navigating the phone menu and for tasks that may not occur during a typical phone call – such as adjusting the volume, powering off the phone and adding/holding a call.

The numerical buttons of 0-9 were to be left alone, since they were strictly used for dialing numbers and we did not want an unwanted action to take place when the user was dialing another phone number.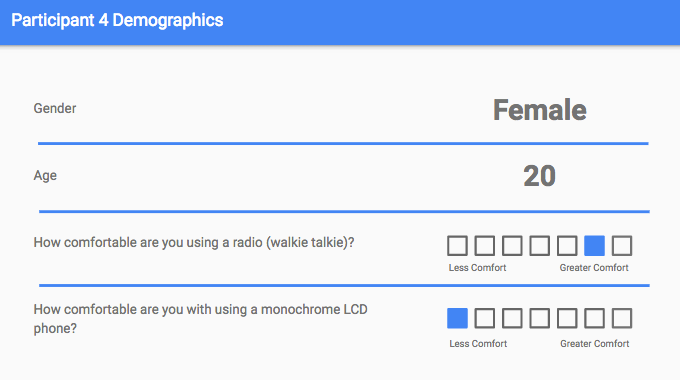 Design
The final paper prototype design of the phone was able to eliminate our goal of one row of buttons while not sacrificing usability. Since the double-function buttons dealt with an element of navigation, they were kept at the top. Their immediate proximity to the LCD screen helped to signify to the user that they were connected to navigating the screen menu. This kept it consistent with other LCD phone navigation systems, which are typically located in the upper half of the keypad near the screen.
The Push to Talk/Push to Talk All function was moved to the side of the phone to reduce the chances of it being accidentally pressed while making a standard phone call. The side location of this function was similar to other radios used in this industry.
After conducting our usability test on four participants, we were able to see what functions were intuitive to the user, and which functions were harder to find or use. From these tests, we were able to form recommendations for Pason about our design.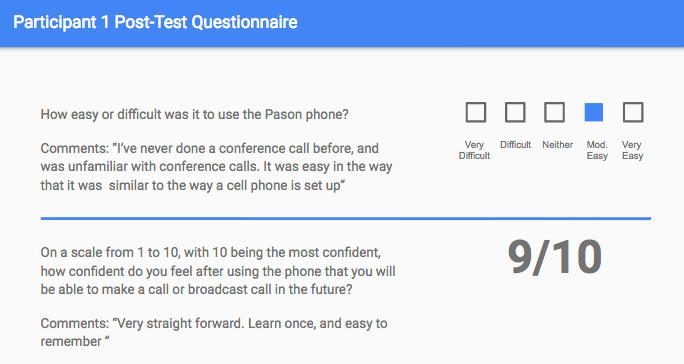 Pros of the design included:
- Visibility of system status: People followed it easily because the screen told them what was going on
- Aesthetic and minimalist design: Simple buttons and screen was as minimal as possible.
- User control and freedom: The ability to make an outgoing emergency call from all phones.
Cons of the design included:
- Consistency and standards: Standard on phones is to add phones to a conference call and hold phones through a menu.
- User control and freedom: Return versus exit buttons – participants used exit to end calls/menu
- Recognition rather than recall: Changed the shape of buttons, so users can remember shape of menu buttons. These different shapes caused some confusion for participants.
Overall, we learned that most users found the phone interface design easy and simple to use. All users rated the phone as "moderately" easy in the post-test questionnaire – the average of confidence ratings reported was 8.25/10. We also learned that the major issue was creating a conference call between multiple callers. This could be partly attributed to the fact that a lower confidence rating of monochrome LCD screens in pre-test related to a lower confidence score in the overall post-test confidence.