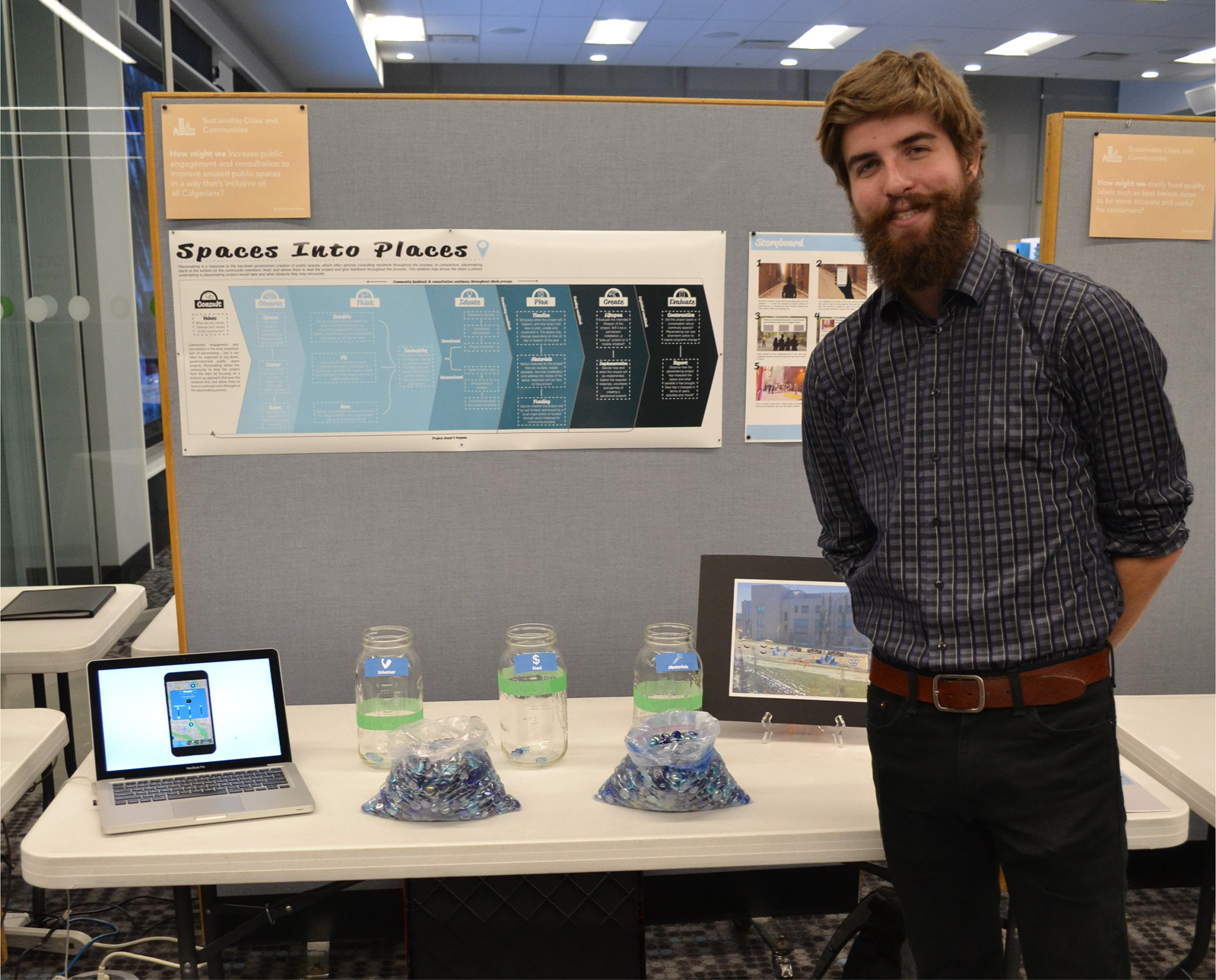 Purpose 
As a capstone project, the Humanly exhibition challenged me to combine my skills in research, problem-solving and design to understand a system as it currently exists, and identify areas where there are shortcomings or obstacles. Working individually, we were asked to pick one of the United Nations' 17 Global Goals and adapt it to address a local problem in the context of Calgary. The goal I chose was Sustainable Cities and Communities, and I specifically focused on addressing the system of citizen-led placemaking in our city. Final deliverables included a systems map – compiled from primary and secondary research – that identified areas for improvement and a potential prototype solution that spoke to these problems.
Research
Thorough research was needed so that I could fully understand the system of placemaking as it exists in Calgary today. I had a solid background of knowledge on the subject from my work the Federation of Calgary Communities, but further ethnographic research was needed so I could get a much better grasp on the challenges that real people face when trying to transform public places into better spaces. Through contacts made at work, I was able to speak to urban planners, citizens involved in the placemaking movement and regular people who wanted to see improvements in public spaces in their own communities. This primary research – in conjunction with secondary research – allowed me to form the fullest picture of the placemaking system and identify the three major barriers that exist within it: permitting, funding and logistics.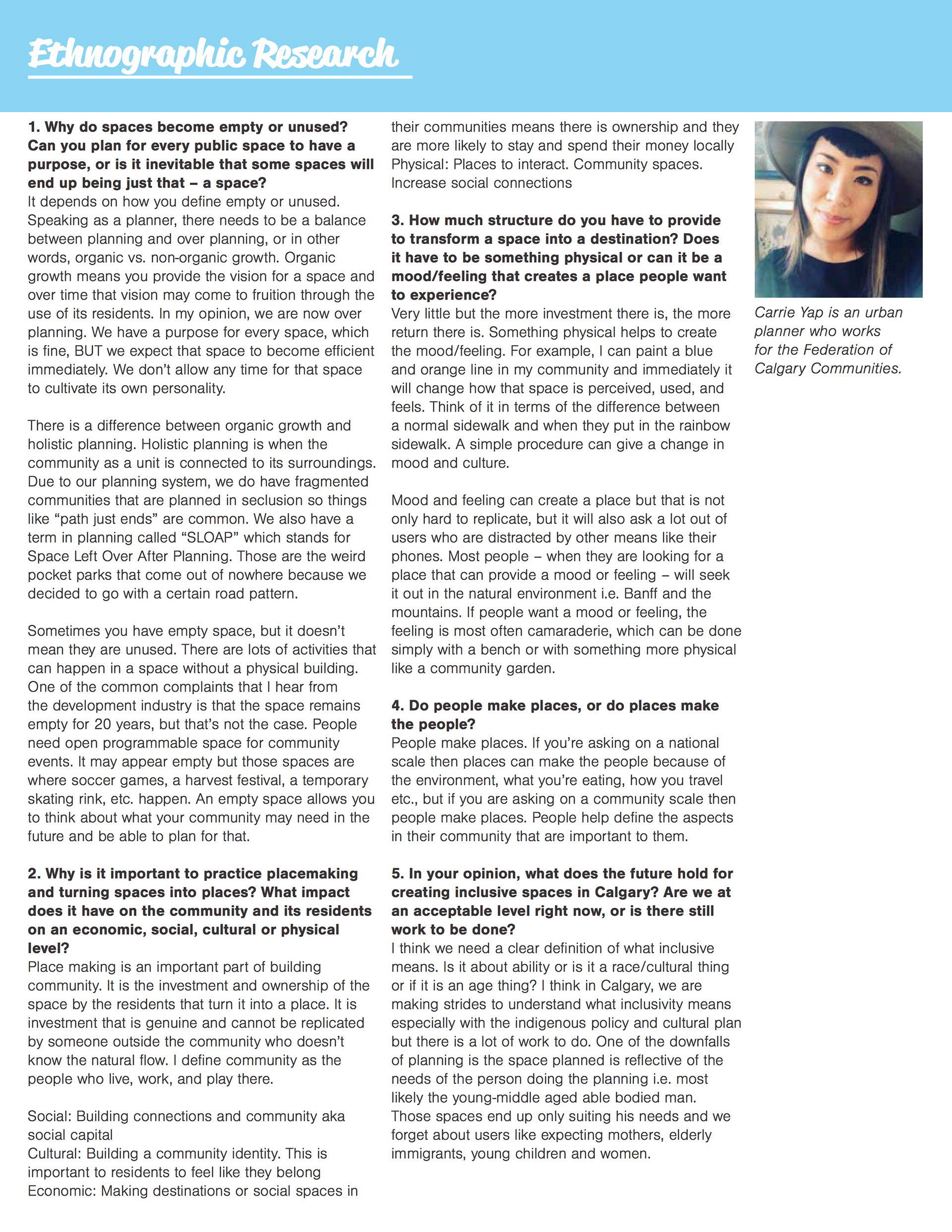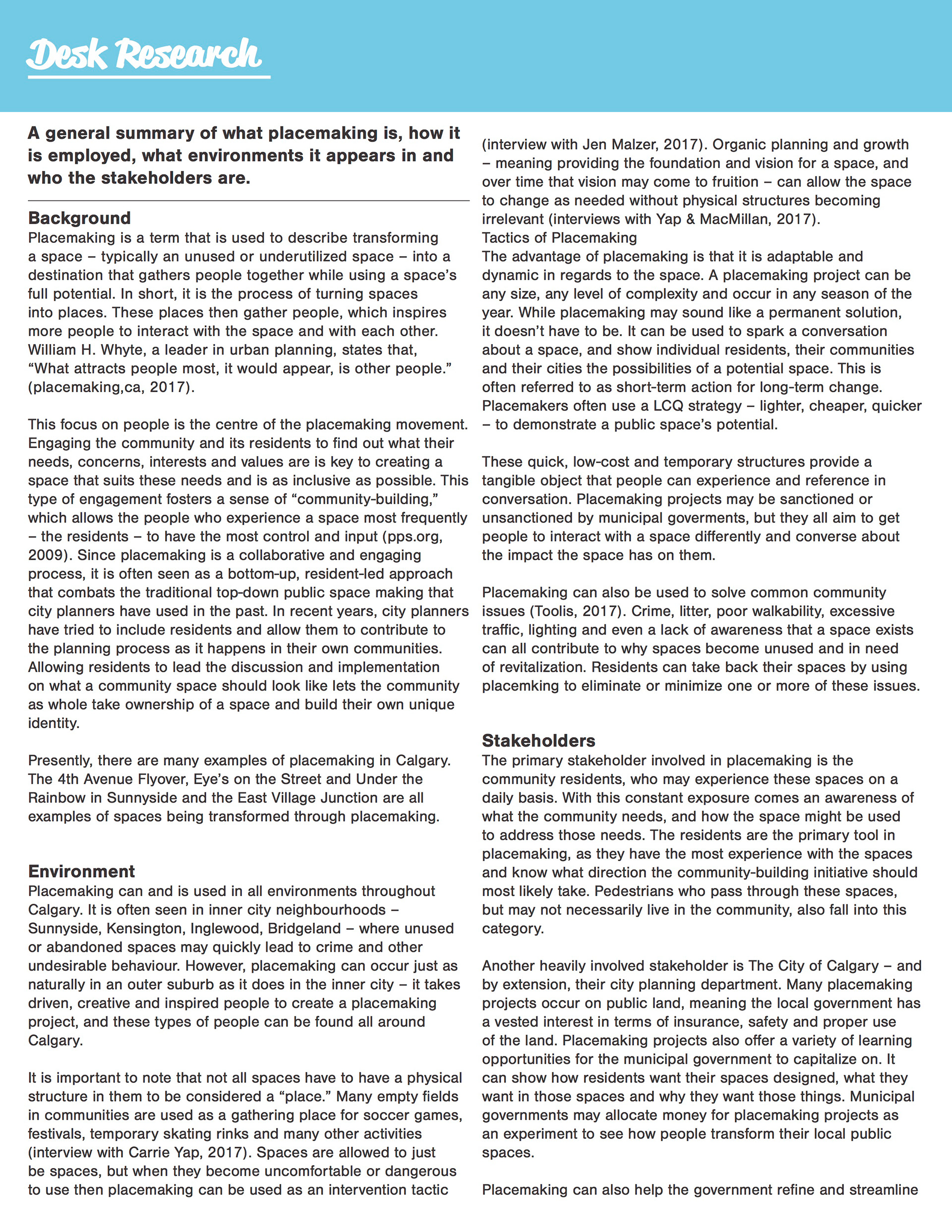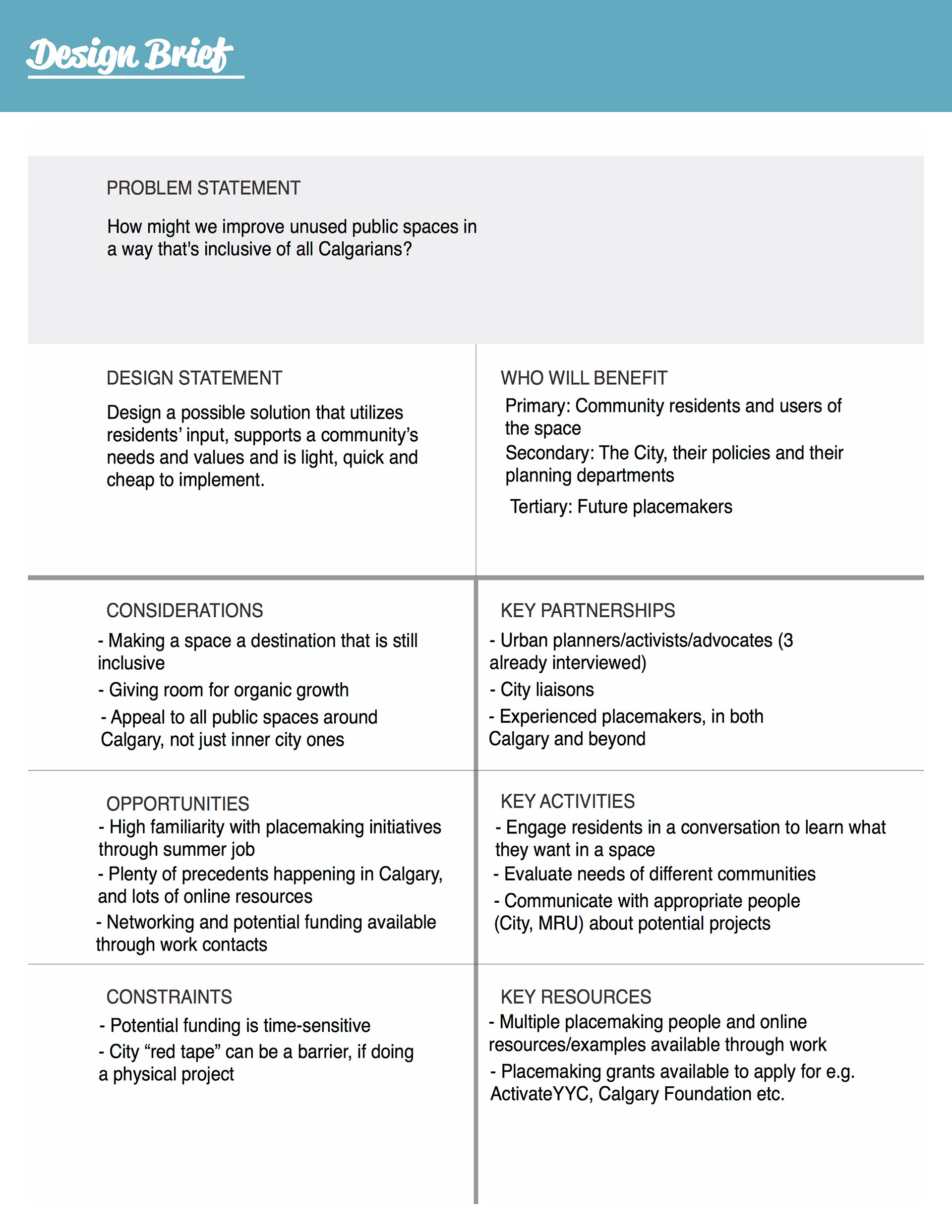 Ideation
 There are many steps that someone undertaking a tactical urbanism/placemaking project must navigate in order to create a project that is sanctioned by the local government. They can also produce an unsanctioned project – meaning they skip the permitting and approvals process – but overall, the steps and obstacles that may be encountered are overall the same. In my systems map, I wanted to show the creator's journey, while also highlighting the barriers that they often encounter, and how these barriers often send people back to the beginning of the process.
I also wanted to prototype a solution that addressed these barriers present in the placemaking system. Since creating inclusive and useful public spaces is a process that starts at the community level, I wanted my prototype to also speak to these values of citizen empowerment, community engagement and public space ownership. Precedents of Kickstarter, Fund My Neighbhourhood (a government-funded program that gives Australian residents the power to vote on projects that improve their neighbourhood) and Sidewalk Toronto (a combination of urban design and digital technology that aims to create sustainable and livable neighbourhoods) were used to help me ideate and create a final prototype design.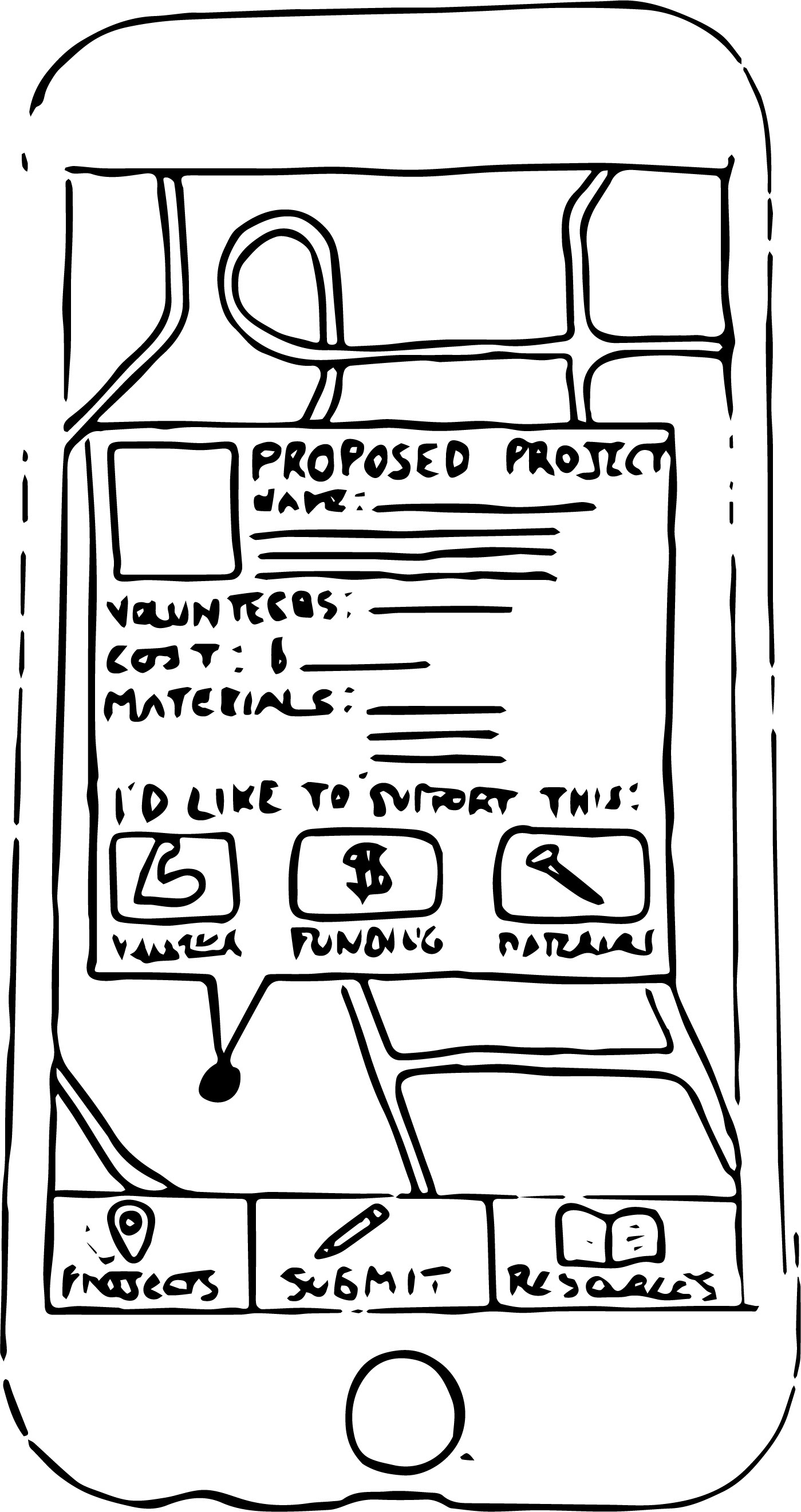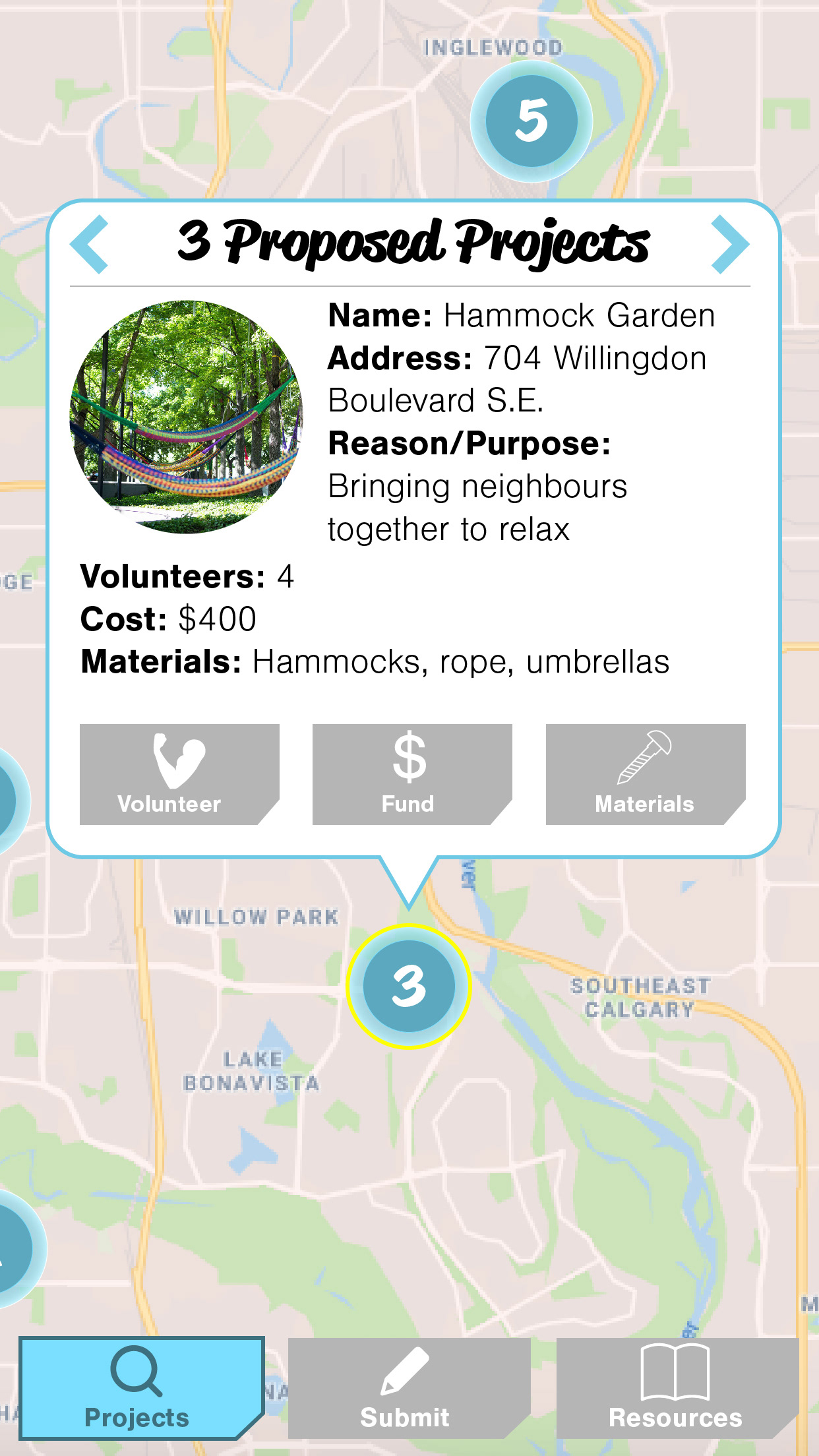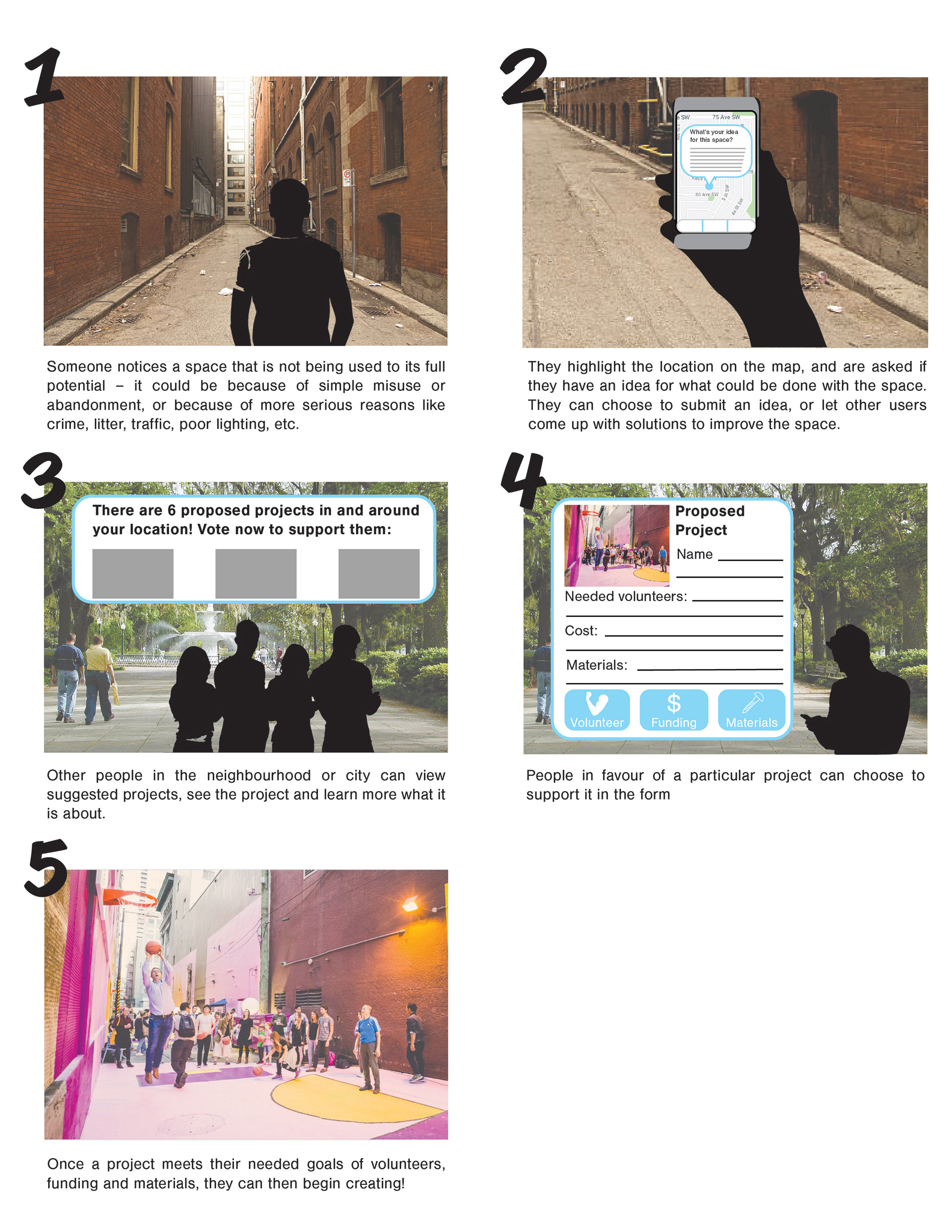 Design
Using my research, systems map and precedents, I was able to create a potential solution to the majority of the barriers that can currently be found in the placemaking system. Placemaking is about bringing people together to engage in conversation about why certain spaces are the way they are and why they need to be revitalized – but before that can happen, people need to be aware of what planned projects are even happening in their communities. That is why my prototype was a publicly available crowd-sourcing/crowd-voting phone app. 
In this app, anyone could view suggested projects in a neighbourhood, highlight public spaces that could use improvement or personally submit their own project to be viewed by others using the app. As people came across projects that they thought were a good fit for the space, they could choose to support it in one of three ways: by volunteering their personal time to help construct, install or maintain the project, by donating funds to help finance the project or by donating materials needed to create the project.
At its heart, this application brings people together to discuss what spaces and the community as a whole really needs. The discussion and voting system allow the most needed projects to rise to the top. These projects can then be used as an example to show planners, developers and city departments what residents want and need, which will help to improve how places are made for the people who use them. The prototype also helps to empower people to submit their applications for public space improvements, since they know that if people like the idea they will have the support of a greater digital community and will not need to create something by themselves.